Foreign Secretary Vijay Gokhale is holding a press conference to give out details of the daring surgical strikes carried out by the Indian Air Force in Pakistan on Tuesday morning.
Twelve Indian Force Mirage-2000 jets crossed the Line of Control (LoC) early on Tuesday morning and destroyed terror camps of Pakistan-based Jaish-e-Mohammed in Balakot. The air strike, which has been dubbed surgical strikes 2.0, comes two weeks after a terror attack on CRPF solidiers in Pulwama, Jammu and Kashmir.
Foreign secretary Vijay Gokhale confirmed the air strike and said a large number of JeM terrorists, trainers and senior commanders were eliminated in largest JeM camp in Balakot. The camp was led by Maulana Yusuf Azhar alias Ustad Ghauri, brother-in-law of JeM Chief Masood Azhar. The government said the camp was located on a hilltop, deep in a forest, and far away from any civilian presence. 
Sources told media that the air force dropped 1,000 kg laser-guided bombs on the terror camp. Prime Minister Narendra Modi chaired a high-level Cabinet Committee on Security meeting in New Delhi along with Union ministers Nirmala Sitharaman and Arun Jaitley on the attack. The attack, which the government said was pre-emptive action in the face of more fidayeen strikes, took place at 3:30 am.
India had put all IAF bases in the western sector on maximum alert after the Pulwama attack in which 40 CRPF personnel were killed.
The retaliation has come days after the Pulwama attack, where 40 CRPF personnel were killed. Pakistan-based terror outfit JeM had claimed responsibility for the attack. The incident had escalated tensions between the two neighbours, with New Delhi vowing to take stern action against Islamabad.
Director-General Inter-Services Public Relations Major-General Asif Ghafoor had tweeted saying that a "payload was released in haste, which fell near Balakot". However, no casualties or damage was reported, he added.

Indian aircrafts intruded from Muzafarabad sector. Facing timely and effective response from Pakistan Air Force released payload in haste while escaping which fell near Balakot. No casualties or damage.
Indian Air Force violated Line of Control. Pakistan Air Force immediately scrambled. Indian aircrafts gone back. Details to follow.
According to ANI, Pakistan's Chief of Army Staff (COAS) General Qamar Jawed Bajwa had visited Pakistani troops deployed at the Line of Control (LoC) in Kashmir and instructed them to "be ready to face any eventuality," on Friday.
Bajwa had also visited the Headquarters Rawalpindi Corps on Monday, where he was updated on the operational situation and state of readiness along the Line of Actual Control (LAC), LoC and Working Boundary (WB).
He met with Chief of Air Staff, Air Chief Marshal Mujahid Anwar Khan at the Air Headquarters in Rawalpindi where the two chiefs "deliberated on operational environment including threat and response" and "expressed satisfaction on readiness, coordination and synergy," according to Ghafoor.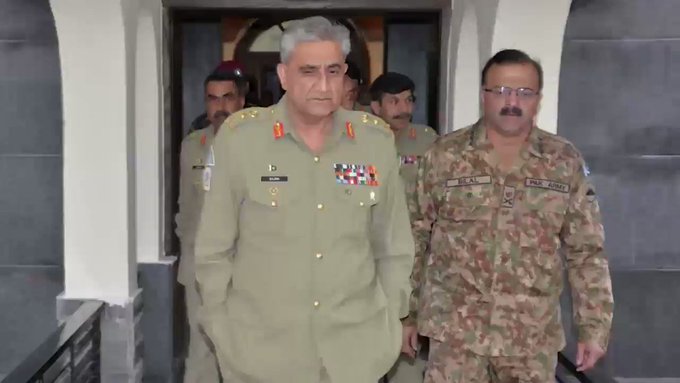 COAS visited Headquarters Rawalpindi Corps. Commander Rawalpindi Corps updated COAS on operational situation & state of readiness along Line of Actual Contact (LAC), Line of Control and Working Boundary (WB). COAS expressed satisfaction on the state of preparations & readiness.